This month we have a Back to School Guide which looks at how parents and carers can support a child's digital world with school work, homework and communicating with school.
From Apples to Apps (for teacher!)
We want to help our children and young people to do well at school, but with increasing use of technology for school work, homework and communicating with parents, it can be a challenge to keep up. Here's my guide to your child's digital school world.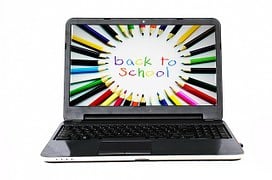 Homework
Via a log in account: Most children from Key Stage 1 onwards are set homework which involves your child accessing this online at home, usually via the school's account and their personal login name and password. Some of the more popular homework sites are MyMaths (where homework questions are set, marked and then fed back to school), PurpleMash (an interactive learning site for nursery and primary aged children to get to grips with basic concepts) and Babbel (for helping with learning foreign languages). Others include timetablesrockstars, jollyphonics and GCSE bitesize and revision guides.
Check with your child's school which sites they use for homework – and that your child's account works on your laptop or tablet. This is important for music or language homework sites, which may require a certain browser or audio player. Speak with school if you have any problems before the homework is due. It is also worth checking that your child is 'learning' via these sites, as some have a 'reveal answer' button and some are multiple choice, which children can very easily click through!
Via research online: Even from primary school, children may be set homework topics to research online and this is common from Key Stage 3 onwards. Check your 'safe search' settings on your search engine, and sit alongside your child if they are young or liable to misspell, or choose the 'Google' suggestion.  I heard of a 10 year old who tried to search for pictures of Anne Boleyn for his Henry 8th homework, but misspelled it as 'Annabel' – the name of a popular horror movie.  He screamed as the horror movie image appeared. Rather than typing, it may be an option to talk via 'Ok Google'?
Another issue is young people believing everything they read online to be true. If children are using the internet for research, check the validity and reliability of the sites they are on. If in doubt stick to the BBC or other reputable forums. I have heard of some schools banning homework from Wikipedia – and there are also plagiarism issues for older children who may be 'cutting and pasting' information for an assessed piece of work. This may also apply to copyrighted images. Check your young people know how to reference information found online.
School work
The new national curriculum now requires that schools offer Information Technology (IT) and digital literacy lessons from the age of 5 years, with the focus on how to code information and how to create their own programmes. This a change from learning how to use a computer (creating spreadsheets and PowerPoint presentations etc), to how a computer works – with lessons in basic coding starting from Year 1.
This is where even the most social media savvy parents get left behind! But for parents who have an interest in trying to keep up with their child, some schools offer coding clubs after school which parents can attend with their child.  There is also a wealth of apps which teach how to code.
The most popular app is Scratch Junior (https://www.scratchjr.org/)   – but this website is a great starting point and lists many apps, not only on coding but all areas of educational support: http://www.apps4primaryschools.co.uk/apps/ks1/
There is lots of information in this article: "Coding a School: A parent's guide to the new computing curriculum" – https://www.theguardian.com/technology/2014/sep/04/coding-school-computing-children-programming
Communicating with parents
For most schools, communication with parents is online via the schools website, a parent portal or regular updates via text message and email.
Parent Portal – If your child's school has a portal system, there will usually be a separate log in for parents and for children. Check your login works and that the portal system is supported in your browser.  Have a conversation with school with regards to information sharing online via the portal system, as the child's basic contact details are stored along with a photograph.  This is especially important for children whose details may need extra security via a court order for example. Check with school who can login to your child's account. Are these given out to all adults with parental responsibility for example?  Check your child knows not to share these details.
The portal system is often used for displaying homework, attendance and behaviour – but the details are often limited.  Further conversations with school may be required to support your child.
School Website – For schools who don't have a portal system, whole school or class information may be posted on the website and online calendar. This could include whole class homework, especially for Key Stage 1 and 2, and dates for the diary such as sports day or parent evenings. Check the school website regularly and remember that a signed permission agreement is required for schools to post pictures of children on their website. A form should be given out which is usually signed by someone with parental responsibility.
School online profile – Most schools now have an online presence on social media, and many are via Facebook and Twitter. It is always worth 'following' your child's school on these sites, as sometimes messages are posted there first (like snow days!). Again, you can check for information that is being shared.
Parental engagement apps – Looking to the future there could be parental engagement apps.  I would be interested to hear if any schools are using these and the feedback?  If you want to read more I recommend this article: https://www.theguardian.com/teacher-network/2015/apr/28/five-best-apps-teachers-communicate-parents