This month is a reflective piece on the meaning of family, friends and connections as the festive season approaches.
The meaning of family, friends and connections
As the festive season approaches, our thoughts – at all ages – turn to those we care about and who care about us.  Our wish is to pass on our seasonal thoughts by sharing gifts, cards or messages. This applies to those we may see daily over the festive period and to those who are geographically or emotionally distant and contact may only be a shared Christmas greeting.
For many years now I have noticed the exchanging of Christmas cards reducing between both adults and children. Friends will say 'I'm not sending cards this year', sometimes in exchange for a charity donation or for environmental reasons.  Others have replaced a written card with a text message or GIF on social media (or sometimes both).  Reports show a reduction in sending paper cards via mail of between 30% and 70% (figures higher for those under 40 years age) but with an average of 50% in the past few years.  This has been attributed to many factors including the rise of social media, but also economic factors such as the cost of postage – and many retailers choosing to stock less Christmas cards.
For older tweens and teenage children, growing up sending festive messages via electronic communication is a valid and effective way of connecting with their friends and family.  However, writing out paper cards seems meaningless when one message can be communicated to all their Facebook Friends or Instagram Followers. There is still the desire to wish people a "Happy Christmas", but the pen and paper version is viewed as outdated and pointless.  Why write out a long message when these will do…
Equally, younger children eagerly writing a pack of 30 mini cards to everyone in their class, seems to have been displaced in some schools under the wider auspices of 'anti-bullying' messages in case one child in a class is left out. Children also say: "What's the point if you are going to see them at school?"
So if our young people, or even ourselves, are replacing the traditional written card with an electronic message what are our options:
Text message – This can be a simple greeting via a written text message or decorated with a selection of Christmas emojis and smiley face Santas. It can be an individual greeting or a 'send to all' to everyone in the address book.
Social Media – There are many options with using social media to send festive wishes. A Facebook post can be decorated with GIFS (Graphic Interchange Format – an image that moves), pictures, photos or even a live message sent straight to your friends. A greeting can be sent to all your Twitter and Instagram followers.  You can even upload a message or song via YouTube and broadcast to the world.  Well, The Queen's annual message is available all year round on YouTube. Here's the link to last year's https://www.youtube.com/watch?v=8Mzor6Hf1tY
Email – E-cards are growing in popularity and there are 100s of websites where you can send free e-card greetings. These can be personalised via the website – with greetings such as 'to my friend' or 'To Dad'.  It can also be a general card in which you type your own festive message, click personalise and send – all done in a few clicks.
Online card sales – If you still like the thought of a paper card, but don't want to write it or post it, there are also many online card retailers where these can be created and posted to the recipient, most now including the option to  upload a photo and message.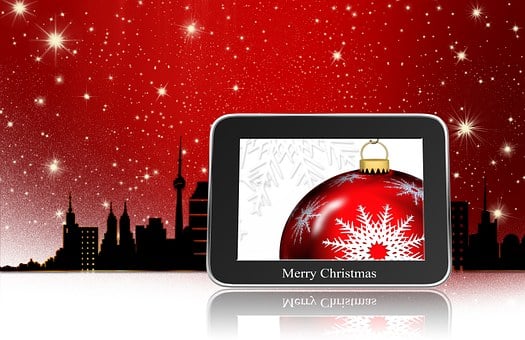 Whether exchanging greetings is in paper or electronic form, the desire to connect remains meaningful. The shared appreciation of the festive season and the desire to pass on our thoughts and let others know we are thinking of them remains strong even in the digital world.
And with Christmas traditionally about giving, it is important to think about the recipient of our message. Not everyone is on social media, and many people appreciate a card or letter as something to cherish and often save. In this increasingly abstract and ephemeral world, a Christmas card is a concrete tradition that many find hard to replace with an online message.
The act of writing, for adults and children, can be a way of processing our memories and thoughts about people, especially for those loved ones we don't or can't see during the year. Christmas is a time for connecting.  The practice of reflecting and writing about our year, the ups and downs, highs and lows, can help children and adults connect, reflect and value the meaning of family, friends and connections.
Thank you for reading my December blog and Seasons Greetings to all
Lynn Findlay.