Our e-safety expert, Lynn Findlay, has written her blog for June:
This month we feature resources for learning about text speak, a review of Mind of My Own App and the LSE Parenting for a Digital Future blog as this month's featured article. This month's featured organisation is Internet Matters and their Digital Safety Awards and this month's book review is a collection of books from the Reading Agency as part of their Reading Well Scheme for Young People.
Foster Care Fortnight – thank you!
Firstly, a massive 'thank you' to everyone who has supported Foster Care Fortnight. There have been different events across the country to promote fostering and thank you to everyone who has visited us in person, liked us on Facebook or Retweeted.  I tweeted about my memorable moment and thanks to everyone who liked and shared.
 Whilst taking down our Foster Care Fortnight display, a man wanted to donate £20 as he had positive memories of foster care. Very moving story @fosteringnet
 I put the man in touch with @fosteringnet to donate. His story was moving: "I didn't have to save my school lunch for my tea" #fostering
Text Speak: Do you know your FOMO from your YOLO?

If we have a Fear of Missing Out because You Only Live Once then we need to keep ourselves up to date with the latest text speak and what children, young people and adults really mean when we read a text or website peppered with acronyms and abbreviations.
Some of the best guides at the moment are via Net Lingo and Common Sense Education.                  
Common Sense Education have a 'Digital Glossary' covering current phrases and popular hashtags (Netflix and Chill; #TBT), as well as popular social media sites, acronyms, codes and positive uses of the online world through digital citizenship, GIFs and MOOCS. This is well worth a read:
https://www.commonsensemedia.org/educators/digitalglossary?utm_source=twitter&utm_medium=csm
Net Lingo – 'The Internet Dictionary' contains everything you need to know from chat acronyms to the correct meanings of smileys and emoticons. It's a huge website, but start by clicking 'New? Start here?' near the top of the page and it will guide you through. You can even subscribe to their mailing list to receive the 'acronym of the day'. The link is here http://www.netlingo.com/
Mind of My Own App – An Advocate in Your Pocket
Mind of My Own is an award winning app that helps young people
express their views more clearly, get more involved in meetings
about them and make better decisions. It is designed to be used by young people aged 8-18 and can be downloaded on to a computer, iPhone or android device. A young person just needs an email address and a Wi-Fi connection to get started, and the site helps with setting up a safe email if needed. MOMO is currently used by 37 Local Authorities to help children communicate with their social worker, reviewing officer and help them contribute to meetings.  Foster carers are encouraged to support their young people with using the app.
There is a section just for foster carers, including FAQs – with recognition that carers are sometimes best placed to help the young person write a statement of how they feel. They can choose from a number of scenarios, such as preparing for a meeting, sorting out a problem or planning for adulthood.  There is a basic guide and demo option for professionals to try this out before using with a young person.
Some of our young people at FCC have used MOMO with their Local Authority and the feedback has been positive, especially for children who want to have their views summarised on their behalf during their review meeting.  Using MOMO has ensured their social worker and reviewing officer are aware of what they want to say and can share this in the meeting.
The MOMO website can be found here http://www.mindofmyown.org.uk/about/ 
and the link to the demo app is here https://app-demo.mindofmyown.org.uk/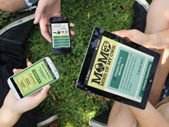 Featured Organisation – Internet Matters and the Digital Safety Awards

Internet Matters is a not-for-profit organisation to help keep children safe in the digital world, partnered with BT, Sky, Talk Talk and Virgin Media. The website has a wealth of information for parents and professionals about e-safety, and aims to bring together the best e-safety resources in one place and give parents tools and tips to support children to safely navigate the digital world. The website contains clear and concise information on social media, online gaming and parental controls – as well as information for schools. In May 2016 Internet Matters launched the Digital Safety Awards, with five categories designed to find the best products, services and initiatives which help us keep our children safe online.
The categories and winners are:
Best Product or Service for Parents: NSPCC and O2 – Net Aware
Best Product or Service for Children: YouTube Kids
Best Education Product or Service: Joint winners: tootoot / Professionals OnlineSafetyHelpline
Best Innovation: eCadets
Digital Safety Entrepreneur of the Year: Vicki Shotbolt of Parent Zone
Congratulations to all the winners and everyone who was nominated, and a clip of all the nominees and winners can be found here: https://www.youtube.com/watch?v=MNN2FQGaEKw
Featured Article – LSE blog Parenting  for a Digital Future
Sharenting: Parent bloggers and managing children's digital footprints by Alicia Blum-Ross
This month's featured article is part of the informative 'Parenting for a Digital Future' blog from London School of Economics. There are many informative articles about digital parenting but I particularly like this one by Alicia Blum-Ross on the concept of Sharenting.
Sharenting summarises the actions of parents who share photos and stories of their children online –mainly via social media or blogs, and there is some debate about why we do this? Research states that by the age of 5 a child's image may have been shared nearly 1000 times online. This raises the issue of who can access the images – which can easily be made public – and what are they doing with that image. This raises particular issues for foster carers, where a child's identity and whereabouts may need to be protected – as well as consents on posting pictures of other people's children.
Fascinating reading, and a great blog to subscribe to if you want the latest updates emailed. The link to the featured article is here – http://blogs.lse.ac.uk/parenting4digitalfuture/2015/06/17/managing-your-childs-digital-footprint-and-or-parent-bloggers-ahead-of-brit-mums-on-the-20th-of-june/
Book Review – Reading Well Scheme for Young People
This month's book review is not one book but 35!
The Reading Well scheme for Young People, which is part of the books on prescription scheme by The Reading Agency, was launched in April 2016 and is designed for 13-18 year olds to offer high quality advice, support and information about a wide range of mental health issues including anxiety, depression, eating disorders and self harm, as well as difficult life pressures including bullying and exams.
There are 35 books in the scheme and they are all available free from public libraries.
There are some great titles in this collection and they are not just for the young people to read – I have read and enjoyed a number of these titles. If we also read these ourselves as parents, carers and professionals we can understand the advice given and then support the young person to process the information, as well as helping us be more informed to answer any questions.
Here is a picture of the 35 titles and a full list can also be found on the Reading Agency website here – https://readingagency.org.uk/news/media/new-national-reading-scheme-to-support-young-peoples-mental-health.html