Our e-safety expert, Lynn Findlay, has written her blog for May:
This month our features are The Digital Kids show and the Friendly Wi-Fi scheme, and our featured article is by CEOP/Think U Know on Keeping Children in Care Safe Online. To celebrate Foster Care Fortnight 2016 this month's featured organisation is New Family Social (the UK network for LGBT foster and adoptive families) and we have an amazing reading list for our book group Learning about Fostering through Popular Non-Fiction writers.
A date for your diaries: Digital Kids show 29th & 30th October 2016
The Digital Kids show is taking place on 29th and 30th October at Event City Manchester and promises to be a 'digitastic' day out for the whole family.  There are number of different interactive zones from gaming and retro, coding and new technologies, to internet safety and children's media. The event includes demonstrations, interactive workshops, soft play for toddlers, fairground rides and driving lessons for 11-17year olds – as well as confirmed appearances from popular children's TV characters.
Here is the link to find out more! http://www.digitalkidsshow.co.uk/
And early bird tickets are still available until the end of May!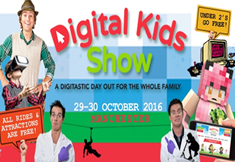 Friendly Wi-Fi is a public Wi-Fi accreditation scheme partnered with the key organisations dedicated to keeping children safe online, including UK Council for Child Internet Safety (UKCCIS) and South West Grid for Learning (SWGfL).  Public Wi-Fi is now available almost anywhere  – shops, restaurants, cinemas, parks and buses – and this means there are a lot of people accessing an unsecured network at the same time. Whereas at home, parents and carers can configure and control the internet settings and filters, with public Wi-Fi these are set by the business providing this service. The Friendly Wi-Fi symbol alongside the public Wi-Fi logo shows this has been checked and verified so that pornography and child abuse websites known to the Internet Watch Foundation (IWF) are blocked. The website lists approved businesses  and partners, as well as online safety signposting for parents and how to apply to be accredited.
The website can be found at: http://www.friendlywifi.com/
Featured Article – CEOP/ThinkUknow Keeping Children in Care Safe online and Advice for carers video
Think U Know is an education resource from the CEOP. Their website offers practical information for children, young people, parents and carers. It is easy to navigate and you can search by age range  or under headings for reporting an incident, having a concern about a child or wanting to know more. There are some articles especially for carers for children in care and adopted children.
The Keeping Children in Care Safe online article can be found here https://www.thinkuknow.co.uk/parents/articles/Looked-after-children-Specific-risks/
And the Advice for carers video, via CEOPs You tube channel here https://www.youtube.com/watch?v=kzwdbLKzuHQ
Featured organisation – New Family Social

To celebrate and promote Foster Care Fortnight 2016, which this year runs from 16th-29th May, our featured organisation is New Family Social (NFS) – the only UK charity led by LGBT adopters and foster carers set up in 2007 to "promote the strength and happiness of our families through opportunities to help each other".  NFS work closely with fostering and adoption agencies across the UK, organising regional support groups and family events. Their services also include a magazine and members area online.
Their website can be found here –  http://www.newfamilysocial.org.uk/
FOSTERING BOOK GROUP
As part of many events that are happening within The Foster Care Co-operative for Foster Care Fortnight, we are holding our first book group called "Learning about Fostering through Popular Non-Fiction Writers".  This will be supported by a twitter chat using #FCCbookgroup and you can join in online at anytime during Wednesday 25th May.
We hope you enjoyed this month's blog!
Lynn Findlay May 2016