This month, we explore bullying and cyberbullying.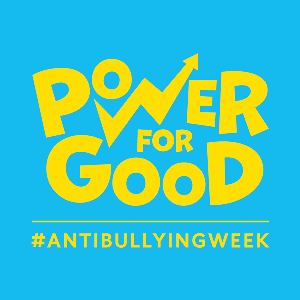 This year's Anti-Bullying Week, coordinated by the Anti-Bullying Alliance in partnership with Internet Matters, ran from 14th-18th November. The Anti-Bullying Alliance is a coalition of organisations and individuals who work together to stop bullying and aim to create a safer environment.  Along with many other fostering agencies, schools, colleges and organisations, The Foster Care Co-operative pledged support on social media – using the hashtag #powerforgood.
The Power for Good campaign was created to help young people understand the ways in which they are powerful, to empower parents and carers to support children and to encourage teachers to value the difference they can make to prevent bullying.
We asked some of our young people if they would like to write about what they are doing in school and college. P (aged 15) has been a Bully Mentor in her school since Y7. She is now in Y11 and has given this up to focus on her GCSEs but she has written about her role as a Bully Mentor:
"When people get bullied they go to the reflection room and in there are people in there to help them with whatever problem they have. There are two mentors who sit on the sofa asking questions to the person being bullied, and one mentor writes notes while the other one or two listen. When the person leaves all the bully mentors decide what to do to sort it out and tell a teacher."
A (aged 16) has just started college.  She had been a victim of bullying at school, and all the class made posters to welcome her to college. She was very proud of the poster she had made, and how the class made her feel welcome, and she brought it home.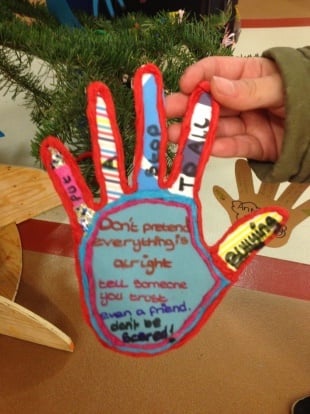 Bullying can take many forms.  It can be physical, verbal or psychological – and it can happen face-to-face or in cyberspace, or both. It is often difficult to separate the effects of bullying online and offline, as online bullying always affects a child's offline world.
If you would like to find out more about the Anti-Bullying Alliance, here is their web link: http://www.anti-bullyingalliance.org.uk/
Cyberbullying
So what is cyberbullying? This is bullying via the use of any technology, for example via a mobile phone or the internet – and is characterised by unequal power, hurtful actions and repetitive behaviours. It can take place in chat rooms, social media sites or via email, and can include any of the following:
Threats  –  Harassment  –  Humiliation  –  Sending nasty messages  –  Sending upsetting images  –  Impersonation  –  Hijacked accounts  –  Photoshopped pictures  –  Creating a survey about someone  –  Ganging up in a game  –  Pretending to be someone else  –  Doxing  –  Swatting  –  Roasting
… and there are probably more.
Cyberbullying can be direct or indirect, or via proxy where the bully instigates others to carry out online actions such as forwarding nasty messages. Many children and young people cyberbully by sharing information that is hurtful, even if they haven't created or instigated it. It can happen anywhere, anytime and the nature of technology makes it harder to disconnect (practically and emotionally).  It can also be anonymous.
Sadly, cyberbullying is common.  Recent figures released this month by ChildLine show an 88% increase in calls to their helpline over the past 5 years, with 4541 children counselled about online bullying in 2015. These are just the numbers of children who made contact with ChildLine to ask for help in this way. The report also shares stories from some young people who contacted ChildLine and can be read here: https://www.theguardian.com/society/2016/nov/14/nspcc-records-88-rise-in-children-seeking-help-for-online-abuse
Here is an interesting article that talks about 'Roasting' and is worth a read: https://broadly.vice.com/en_us/article/teen-girls-are-roasting-boys-online-in-new-cyberbullying-trend
So, what can you do to protect your child? If your child is a victim:
• Talk to them – keep communication channels open and be available to talk.
• Don't stop them going online – taking away devices may make them more isolated.
• Keep the evidence – save texts, pictures and take screenshots.
• Advise your child not to retaliate. 
• Block the person if this is an option on a social media site.
• Take it further if needed – this may mean involving other parents, school or the police.
If your child is bullying others – or bullying 'by proxy' and sharing/forwarding information:
• Talk to them – establish facts and keep an open mind.
• Talk it through – a child may not realise how hurtful their behaviour is towards others – just because others are sharing a picture, for example, it doesn't mean it's ok.
• Don't condone or ignore the behaviour – and be a positive role model online – show how a child needs to take responsibility for their actions.
• Don't take away their devices but think about restricting access.
(Advice above from Internet Matters)
See Internet Matters for further detailed advice about all aspects of cyberbullying, including short video clips from parents who have first-hand experience.  There is also a helpful glossary of commonly used online terms that represent forms of bullying: https://www.internetmatters.org/issues/cyberbullying/learn-about-it/#1473779215982-a912074e-9b19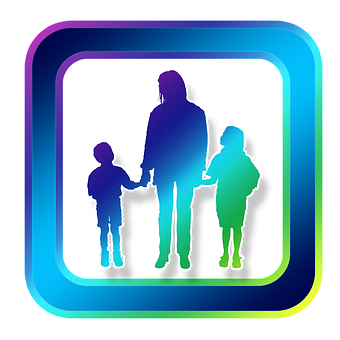 Seek support
Bullying and Cyberbullying can be difficult topics to talk about. Parents and carers may think back to their experiences as a child and this can be upsetting for them. But it is important to be aware of how all types of bullying can affect a child.  It's also important to be aware of the language used by children and young people and what they are doing offline and online. Take time to ask questions, show an interest and monitor a child's behaviour – especially if there has been a behaviour change in both their online interests and at school and home. Teach your child how to be responsible online by modelling positive online behaviour and how to use the block and report features on social media sites.  Critically, be there for emotional support and reassure your child that they have your support.
Bullying is best thought of as a process, not an event. It might have been taking place a while before the child shares information with you, or you may have noticed a change in their behaviour. Dealing with the bullying is the next step in the process.
If this gets tough it's important to seek support for yourself and talk things through with a partner or trusted friend – or contact a parent/carers helpline. Many sites have a resources section for parents. Family Lives (formerly known as Parentline) can be contacted on 0808 800 2222 or see http://www.familylives.org.uk/
Take care and thank you for reading my November blog.
Lynn Findlay