This month we reflect on how we can support children and Young People to feel safe online and explore online support and services that are available to them..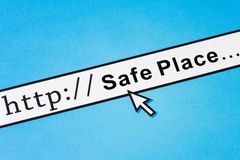 Feeling safe online
This month I am delivering training on how we can support children and young people to feel safe.  In the sessions we will explore the signs and changes in behaviour which communicate to us when a child may feel unsafe, and what we can do as adults and carers to create feelings of safety in a safe environment with safe people.
This includes the online environment, represented by the Wi-Fi symbol, to signify that going online is not confined to the home, but can be on a smartphone on the way to school, at a sleepover, at a friend's house or on the shiny new tablets in a fast food restaurant.  The training will boost a range of practical responses such as passwords, security settings, follow/friend on social media – but, crucially, with a 'we talk to them' as a top suggestion.
This has led me to ponder how children and young people feel safe online, and reflect on what the difference is between what keeps a child safe and what makes a child feel safe – are they the same and do adults and children experience the same feelings?
Offline/online analogies
In my training and in previous articles I use the analogy of crossing the road. To teach road safety and keep a child safe we practice crossing the road alongside them (again and again), modelling how it should be done, pointing out potential hazards (don't cross near parked cars) and offering practical ideas (always make sure the traffic has stopped at the red light). We may even ensure they wear bright clothes, a reflective strip on their coat, but at some point they go out and do it alone.  This is when they feel safe and we feel safe in their abilities.
In the online world to keep a child safe we go online with them at first (again and again), model good online behaviour, point out potential hazards (people online may not be who they say they are) and offer practical ideas (don't share your password with others). We may even ensure we have age restricted settings and device passwords, but at some point they are alone (in the monitoring sense). This is when they feel safe, but do we feel safe or are we passing on our feelings of doubt, insecurity, ambiguity, ignorance or danger?
This feeling safe doesn't mean a child doesn't experience feelings of excitement or risk or even danger. Climbing a tree in the park is exciting and potentially risky, but we feel confident that they won't climb too high and if they fall off we'll be there to pick them up.   Exploring a new social media app is exciting and potentially risky, of course, but we feel confident they can apply the boundaries and if they feel unsure we are there for advice and to talk to.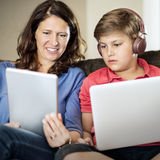 Digital resilience: when young people know what to do to keep themselves safe and manage online situations
Positive uses of feeling safe online
Most young people now live their lives online and the most recent figures show young people now spend an average between 3 and 4.8 hours a week online (1), largely via a smartphone or tablet, and access to Wi-Fi and devices are almost universally accessible (for example in schools, leisure activities, libraries and the shiny new restaurant tablets!).
It is therefore important to balance the risks and safety messages with consideration of how a young person can find support, services and information online. In effect, how they can use the internet to help them feel safe. Here are a few suggestions:
Childline – Childline can be accessed online or on the phone. Children can get support through 1-2-1 counsellor chat, by emailing counsellors or from shared message boards. Their website is very child-focused and user friendly – when a child clicks on 'counsellor chat' they enter a waiting room, with waiting time displayed in a sensitive manner, enabling a step by step approach. We know young people may make a series of steps before talking and sharing feelings. An online approach will help some young people seek help and share information and makes this more readily accessible than a phone line only. Childline have embraced young people's use of technology to reach out to them.
More information can be found here: https://www.childline.org.uk/
Relate – Relate also have a section on their website for young people, and offer a live chat session. Their website also includes information for young people on common problems such as bullying.
Here is the Relate web link: https://www.relate.org.uk/relationship-help/help-children-and-young-people/children-and-young-peoples-counselling
YoungMinds – The UK's leading charity working to improve the mental health of children and young people. Their website has a wealth of information about mental health for children, parents and professionals.  A section of the site for young people is called YoungmindsVS , and this is an online campaign, run by young people, focusing on talking about mental health and creating conversation online. They are active on Facebook, Twitter and YouTube and people can tweet using the hashtag #youngmindvs to connect to others.
Check out http://www.youngminds.org.uk/for_children_young_people/youngminds_vs
Online communities – Whatever issues may affect young people, finding sources of information, help and support is much easier than before the internet (we had libraries or perhaps leaflets at school) and there are many active and supportive online communities for a range of issues including health, sexuality and bullying.  An example of an active online community for young people is B-eat. This site offers a safe space for people with an eating disorder and hosts a young person only message board.
This is the link to the B-eat site https://www.b-eat.co.uk/support-services/message-boards/young-peoples-message-boar
The online world has many aspects of risk, opportunity, information, vulnerability and connectedness. If we start with 'good enough' digital parenting, include a positive digital role model and promote digital resilience in our young people then this can enable another avenue for them to get support and feel safe.
Thank you for reading my September blog – Lynn Findlay.
(1)Children and Parents Media Use and Attitudes Report. Ofcom November 2015.