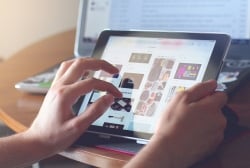 Lynn Findlay, one of FCC's supervising social workers in the Yorkshire area, has taken part in an interview about online safety for children.
Lynn, who writes a monthly e-safety blog for the FCC website, was interviewed by Cath Knibbs – who specialises in how young people's developing brains are affected by their interaction with the digital world.
Cath and Lynn specifically discuss why foster carers can be presented with much more complicated issues around online safeguarding compared to households that have raised their own children.