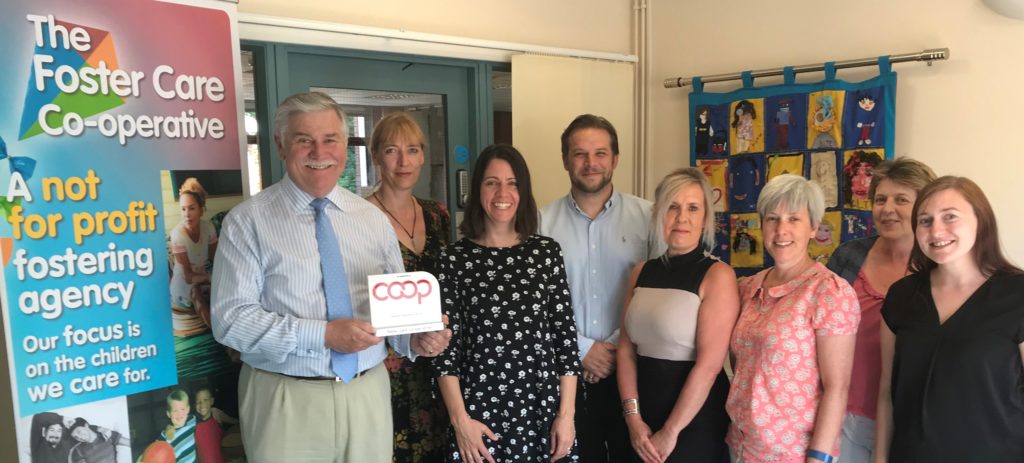 The Foster Care Co-operative (FCC) has won a prestigious national co-operative award.
FCC were shortlisted for the Inspiring Co-operative of the Year Award, one of five presented by Co-operatives UK – an organisation that promotes, develops and unites member-owned businesses throughout the UK.  They went on to win the award at the annual Co-op Congress Event in London on 23rd June.
Steve Field, FCC's Director of Child Care, said: "We are delighted that the hard work, care and commitment from the foster carers, children and staff have been recognised through the award for most inspiring Co-op.  It is a testament to their dedication in ensuring better outcomes for children in need of care whilst keeping values based on Integrity, Ethics, Quality and Co-operation."
The Foster Care Co-operative was founded in 1999 by an ex-Deputy Director of Social Services and foster carer.  He wanted to go further than simply establishing a not-for-profit fostering agency – and so chose the model of multi-stakeholder and common ownership and registered the company as a co-operative. Since then, the model has proved hugely beneficial.  Due to no involvement from distant shareholders or investors, FCC's members on the 'shop floor' have always been given a clear voice within the organisation.  This has made the organisation transparent and responsive to change – particularly at a policy level.  It has also created a culture of greater democracy. 
Simply put, The FCC has given its staff, carers and children the opportunity to contribute to the running of the organisation.
In 2016, FCC consulted with the children and young people in their care to help them redesign a children's section of FCC's website.  Young people got to vote on the site name, and what they would like to see featured.  The area, now called Kidz Zone, offers regular competitions, a chance to become an FCC 'guest reporter', to upload any artwork they have done – and to be able to reach FCC's own Kidz Rep, if they need to talk to someone.
Foster carers are also given the opportunity to become involved in hiring decisions within the organisation – and often attend first rounds of interviews.  They also attend foster carer recruitment events, bringing valuable experience, insight and advice to perspective applicants.
This involvement of all parties truly embodies the co-operative approach – making them transparent, ethical and above all child-centred from a management level to the very children they provide care for. 
FCC remains the only not-for-profit fostering agency operating as a co-operative in the UK – making them truly unique.  Any surplus income is reinvested to provide more training and support for their foster carers.  The organisation has grown steadily and organically and now has teams situated throughout England and Wales – with offices in Malvern, Cardiff and Manchester.
To find out more about Co-operative organisations, visit www.uk.coop
You can find out more about The Foster Care Co-operative by visiting www.fostercarecooperative.co.uk