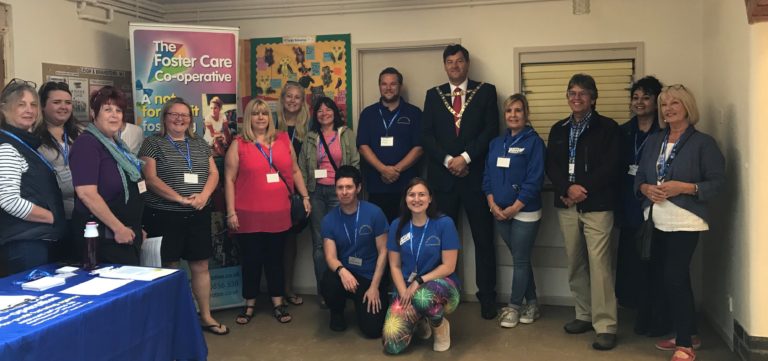 The Foster Care Co-operative held its 20th Anniversary Celebration on the 18th August – attended by foster children, carers and staff. 
The party, held at Leigh & Bransford Hall near their head office in Malvern, featured bouncy castles, fete-style games and stalls and plenty of food and refreshments.  Not only was it a real celebration of an important milestone, but it was an acknowledgement of the organisation's positive impact on children's lives.
The Mayor of Malvern, Councillor Neil Morton, was able to attend the event – and spoke candidly about his own time in care as a child: "From my point of view it is a privilege to be here.  I went into care when I was four, spent the first couple of years in a children's home, then a short-term fostering placement.
"I was then fortunate to be placed long term, which took me through until I was 18.  I really do believe that without that environment, and the love and support of my foster carers, I perhaps wouldn't be here today, doing what I'm doing.  On behalf of myself, and the children you have looked after, could I just say thank you very much for what you do – it makes a huge difference."
The agency was also presented with a hand-made plaque, personally engraved by an ex-foster child.  The plaque, which read 'Thank you FCC for helping me find myself', was presented to founder Laurie Gregory – for display in the organisation's head office in Malvern.
The Foster Care Co-operative was founded in 1999, and is currently the only not-for-profit fostering organisation in the UK operating as a 'co-operative'.  Sam Ram, CEO of FCC, talked about the inclusiveness of the event, and the importance of the 'co-operative approach: "We were so pleased to be able to offer such a fun-filled day for our foster carers, children and staff!  The Foster Care Co-operative is twenty years old this year, and we wanted to celebrate this milestone with the very people who have made it happen over the years. 
"As a co-operative, it is important for us to recognise our 'FCC family', which also includes ex-staff.  Everyone has had a fantastic day – a big thank you to all who made it such a success!"
Les Kinmond, Chairman of The Foster Care Co-operative, said: "Since becoming Chairman of The Foster Care Co-operative a year ago, I have been constantly impressed and touched by the ethical, child-centred approach of this organisation.  To then have an event that includes our outstanding foster carers, the children they support and our staff past and present, is just fantastic – so it feels like a true celebration of where we are today. 
"I hope everyone had a wonderful time – from the smiling faces of the children on the day, I can only deduce that they did!  A big thank you to everyone involved."