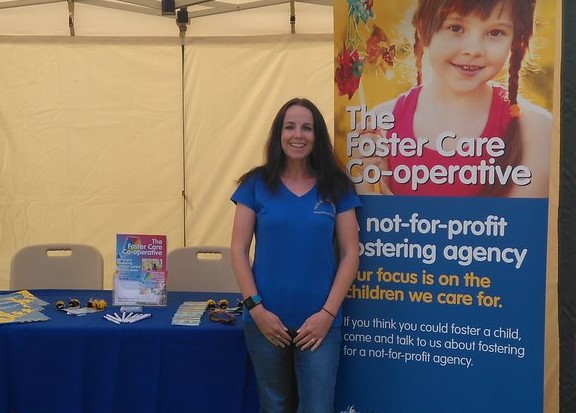 Lynn Findlay is one of our supervising social workers based in Sheffield.  She is passionate about her city, and in this blog talks about her events in and around Sheffield – with the aim of recruiting new foster carers.  She also mentions some fantastic community-based venues that have welcomed us with open arms!

We are always looking for more foster carers to join us at The Foster Care Co-operative (FCC) and our Yorkshire recruitment at the moment is focused on Sheffield. We have a lively and passionate group of foster carers in South Yorkshire, covering Rotherham, Doncaster and Barnsley, and we would love more to join us in Sheffield.
Over the past few months we have taken our stall and banner to many local events and venues across the South of Sheffield, and have been delighted to make links with the Lifestyle Centre in Beighton, who kindly hosted us in their café each week during July.
Each week we have chatted to staff and visitors to the centre and have been welcomed warmly by everyone. The Beighton Lifestyle Centre is a true community venue, hosting a range of local groups and organisations, with rooms to hire for many purposes. The Café is described as Beighton's hidden gem and if you are in the area this an ideal choice for delicious home cooked food in a contemporary setting.
We also enjoyed a busy day at the Beighton Summer Gala, held at the Beighton Welfare ground, and spoke to many people; single people, couples and families, at various stages of their fostering journey. We love hearing about how people want to become foster carers, and what motivates them to start their journey, at all stages of their lives. It is great to be able to share with interested people what joining the Foster Care Cooperative can offer and the support available. At busy public events some people just want to take a leaflet and read more at home, other people have many questions and are keen to chat.
It is important to us at FCC that carers have local support and we have supervising social workers based in Sheffield that do just that. We have been able to extend our local links to Graves Leisure Centre, where we had a stall one evening, and Bradway Primary School where were set up our stall at their summer fayre hosted by the Friends of Bradway School. This was a very busy event on a lovely warm Saturday afternoon and many people were keen to find out more about FCC.
When we are chatting at events there is always a lot of information shared and sometimes it's hard to remember everything. It is also important to us for people who are interested in fostering not just to remember what we said but how they felt with their first impressions of FCC, and be greeted with a friendly face and warm welcome.
We have more events planned at the end of summer in Sheffield. Come and talk to us at The Sheffield Fayre in Norfolk Park on August Bank Holiday Monday, or take some leaflets. We will also be at Sheffield train station in the concourse (keep an eye on our Facebook for the date).  Also, If you are hosting an event in Sheffield or have an organisation in Sheffield, and can provide us with a table and space for banner we'd love to hear from you as well. We love being part of the local community and reaching out to people who are committed to making a difference to children and young people.
Lynn Findlay.