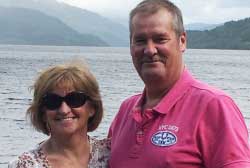 "I knew I was adaptable as most officers are – but my analytical, communication and advocacy skills have always been useful"
To become a foster carer, full training is provided.  But there are many transferrable skills that a lot of people don't realise they already have.
Dave, along with his wife Mary, has been a foster carer for The Foster Care Co-operative for 12 years.  Dave used to be a policeman – starting as a Response Officer on the streets.  All in all, he was in the police service for 21 years. 
You can read his story here
All our carers' stories can be read here